Because play is an essential part of a children's development, at Be My Nounou we truly value games and activities as the greatest way of learning a new language.
If you are part of our BAE (Babysitter Awesome and Enthusiastic), it is for your creativity and your curious personality, your ability to inspire children and offer them your ideas. But you may need a little help sometimes. The breakdowns of inspiration, the syndrome of the white sheet, it happens to everyone! That's why the Be My Nounou team offers you an activity booklet and an activity box filled with gifts and ideas for children's activities.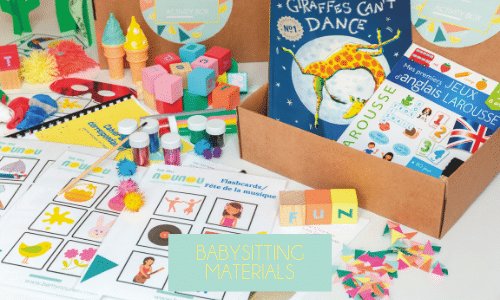 The goal is to communicate in English only with the children during the time of guard thanks to the material provided by the agency to help the children to learn the language of Shakespeare! And as we learn faster a new language by playing, get ready to have a lot of fun with your little French kids!
Good to know : You are in any case obliged to use the material provided by the agency. As a creative nounou, you can add you own personal touch by submitting you ideas, games and activities that you may know or have already tried with other kids. 
Before your first day with the family, you will pick up at the agency an activity box for the children especially designed to introduce you in a « friendly way » to the kids you will babysits (With gifts, the contact passes immediately more easily, you do not agree?) and facilitate the learning of a new language in a fun way. You'll find inside:
Fingers puppets
English cards game
English child booklet
Bilingual flashcards book
Blocks and manipulative play and many others surprise!
We also provide to our nounous a monthly thematic program of activities that allows our English speaking nannies to propose activities and games during the childcare in English such as:
We also provide you a monthly program of thematic activities that will allow you as an Anglophone tutor to propose activities and games in English such as:
Cooking recipe
Dance choreography
Thematic flashcards
Song and rhymes
Scientific experiences
DIY arts and crafts
Stories and early literacy
Fun worksheet
Outdoor and indoor games
Dramatic play
Coloring pages
Printable accessories …
Every 6 weeks, the activity book is on based on an event theme that marks the month: summer holidays, halloween festivities, back to school, spring blossom, music festival, Christmas wishlist, etc. Everything is an excuse to play in order to learn English… in fun!
How to use the activity book?
As a « nounou » for Be My Nounou, you aren't teachers, but English babysitters tutors who adapt to the age, personality, hobbies and desires of each child.  Depending on parents' recommendations and childcare time, you can come up with one or more activities from the program that allow children to play while learning a new language. For short time babysitting, enjoy reading activities and quiet games. For long guards, you can start making a cooking recipe or role playing games. The guard is based on a fun and tailor-made immersion.
All activities developed by the team are designed to help children memorize vocabulary. Activities can be manual or sports, educational games or fun activities to encourage children to play while learning a new language with a native or bilingual speaker.
Depending on the age and autonomy of the child, you will have to supervise or assist with the execution of activities, while remaining at the child's disposal in case of questions or difficulties. 
When you are planning activities with children, it is important to remember to:
Interact with the children
Use repetition
Introduce new material
Be flexible
Allow breaks
Through games and activities of the booklet as well as by daily actions, the goal is for the children to learn a new language with her or his BAE (Babysitter Awesome and Enthusiastic). While having fun! 
Tip: For multiple guards, the nanny will make sure to bring children together around a game to promote exchange and communication in English.