Here you are, well settled in Paris. Finally ! But now you must remain reachable, whether for your employer, for your family or for your new French friends. It would be a shame to land in Paris and not be able to share your feelings on the phone or on social networks, right? Be My Nounou gives you some practical advice to stay connected (at all costs, literally) at your arrival in France!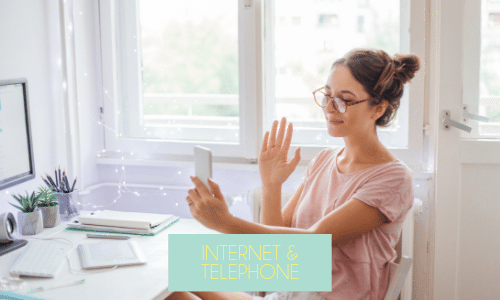 If you have decided to live alone, know that you will have to subscribe to your own internet subscription. The vast majority of Box now offer Triple Play, namely Internet + TV + Unlimited Telephony to landlines.  It is advisable to turn to the main access providers such as Orange, SFR, Bouygues Telecom and Free, opting for subscriptions between € 35 and € 65 per month. Also find out about student packs that regularly propose low-priced offers.
If your budget is more limited, you can choose a smart-cost provider that offers the most competitive rates: RED, Sosh, B&YOU, which offer triple-play offers less than 20 € per month for the most advantageous. Regarding mobile plans, it takes between € 5 and € 20 per month to have unlimited calls and text messages, and between 20 and 50 GB of internet. If your mobile plan is international, then you can keep it. Inquire before your arrival in France about your options and their cost, especially since you will not necessarily have Internet during the first few days.
Good to know : Do not forget that in order to benefit from a mobile subscription in France you must be holder of a French bank account. You should also know that if you live in a university residency, you can enjoy free or extra WiFi connection depending on the residency. Check with your establishment to know the time of rallying and the costs.