Welcome to our international community! You probably know someone who wants to become part of our great family? We reward our members referring a new applicant. Hurry up! Know that in France there are lot of demands for English speaker babysitters. We are recruiting all year long! If your friend needs a part time job and he/she doesn't really speak French, we might find an interesting job for him/her!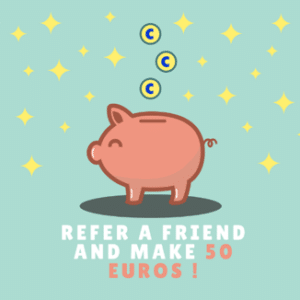 How does it work?
During the interview, the employer will ask the candidates if he knows someone in the team. If your friend mentions you and he is selected by the team you get a reward! Simple and efficient, you will receive the prize after your friend worked for a month with Be My Nounou.
You just need to come at the agency and you will sign a paper to prove that you received the card!
Why should you do that?
If you refer a friend, you will get a you will get a 50€ gift card! We are recruiting in  Paris, Aix-en-Provence, Montpellier, Toulouse, Nice, Bordeaux, Lille, Grenoble and Lyon! So, no matter if your friend lives in Paris or not!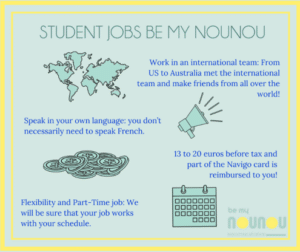 Why does your friend should work with Be My Nounou?
If you want to refer a friend, it's likely that you would like to share your experiences with him/her. Remember that being part of the childcare agency Be My Nounou means:
Work in an international team: From the Tokyo to Hawaii, meet the international team and make friends from all over the world!
Speak in your own language: you don't necessarily need to speak French.
Be creative with kids: Your role as a nounou is to take care of children and provide activities in English. You will work with kids around 3 to 12 years old. Each month you will receive an Activity book.
Have a great salary: 13 to 20 euros before tax and part of the Navigo card is reimbursed to you! What else?
Flexibility and Part-Time job: Usually, you will work after school 4 to 7pm! 5 to 20 hours, you will chose. You can work Wednesday and sometimes during holidays! We will make sure that your job works with your schedule.
A job close to your home or school! Don't need to spend 2 hours in public transportation with Be My Nounou!
Homeworks, social life, learn French… living in Paris is never an easy thing. Refer a friend and you will probably save your friend's life!
Your friend can directly apply online or send an email to jobs@bemynounou.com
If you refer a friend, make sure that all the Specific Requirements are respected!
He/she must be over 18 years old
Have previous experiences in this field: we always check your previous references!
Clean Criminal Record
be allowed to work in France (visa or EU citizen)
Must be fluent in English or bilingual with neutral accent.
Your friend can directly apply here.