Would you like to work and have fun at the same time ? (we can help you)
If you you like to be surrounded by children and if you like making art and craft activities why don't you apply for babysitting jobs?If you like drawing, painting or play music you should apply for a babysitting jobs in Paris. You can study, work and have fun in Paris !  Every month you will receive an Activity Book with arts and crafts ideas, recipes … If you want more ideas, we have a beautiful Pinterest page just made for you: https://www.pinterest.fr/bemynounou/pins/
Meet our international community in Paris
"Since I work with Be My Nounou I have been meeting students from Hong-Kong to California. I really appreciated Be My Nounou's events. It was something really important to me because I'm trying to socialize in this big city. A lot of jobs in Paris don't bring people together but with a babysitting job I had the chance to meet a French family and International students!  Laura, 22 years old, Canada.
Like Laura, if you apply for babysitting jobs at Be My Nounou and if you are recruited, you can participate to our special events! During these events we give you tips on how to become a real Parisian 😉 Housing, CAF, University, everything! Having a babysitting job is not like other jobs in Paris! You are free most of the time during weekends and holidays! That is a real plus!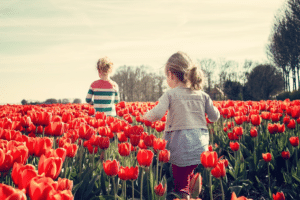 Cultural exchange
Be part of a French family! You will be experiencing the intimacy of a French family, so you will improve your knowledge of French culture. An example for you: when comes time for the "goûter" in France around 4pm, the kids get to eat some snacks. So do you know what a "BN" or a "brioche" or a "pain au chocolat" are? Kids will teach you! You can also learn that there are two ways to name a "pain au chocolat" depending on where you are in France. People in South of France will call it a "chocolatine", Parisian for example will call it a "pain au chocolat". Make no mistake!
You will share your language with children and they will share their culture with you!That's a perfect match 😉! And don't worry, during the recruitment process we will carefully match you with the right family! No bad surprise for you!
If you want to find a job in Paris, here are some tips to act like a real Parisian:
• Don't hug people but kiss on each cheek. If you are in a more professional context, shake hands.
• Don't look happy all the time. As you might notice Parisians don't smile (that's a joke 😉)
• If you live in the suburb like Bagneux, Versailles, Aubervilliers etc.… – even if it's 10 min away from Paris: You are not a Parisian!
For Parisian people, the rest of France (like Lyon, Bordeaux or Nice) is called "Province" but be careful don't say "Province" in anywhere else than in Paris.
• Be punctual: if you have an appointment at 13h be there between 12h50 and 13h05. After that it is too late. If you can't make it on time for some reason, make sure to let the person know about it, they would probably be comprehensive.
• If you apply for babysitting jobs get references! It's always a good point!
Recruiting Process
Be My Nounou promises you a simple and fast recruitment process.
• Fill out the form online
• Interview in our office, be yourself that would be alright 😉
• Match with your family: meet the kids and the parents! Don't be shy and don't hesitate to ask questions about the kids! You are here for that
• Congratulations! You have the job! Welcome to the team!
Job in Paris is valuable for your resume
It's always good to show your future employer that you can live in a foreign country and find a job. It shows that you tried to adapt to France. If you are an exchange student it proves that you can manage stress, studies, other language, and job.
-You deal with plenty of of unknow things but you where able to find a job!
-It shows that you can study and work in the same time!
-It shows that you understand a culture different from yours.
– Be involved in a vibrant city and never get tired 😉
– If you apply for babysitting job it shows that you are creative and curious.
– That you have sense of responsibility!
-As you may know French administration is complicated so if you can go through this it proves that you are really motivated and well organized!
– Experiences with Be My Nounou show how mature you can be!
Want more information about our childcare agency? Visit our Website www.bemynounou.com! You can email us at contact.bemynounou.com